Today's post is comprised solely of amazing pictures, 1 video & some cartoons. The pictures were sent to me in two emails by my friend & frequent contributor Carole.
Thank you, Carole!!
The lava lake of the continuously active volcano Erta Ale, Ethiopia.
A FedEx Boeing 757, without any cargo.
This is the clearest photograph of Mercury that has ever been taken.
These things are octopus eggs.
What the Northern Lights look like from space.
Bavarian town of Nordlingen built in a 14 million year old meteor impact crater.
This is an illustrated grocery list Michelangelo would create for his illiterate servants.
This is a view from Mars.
Inside one of Googles
data center
Mechanical Systems
.
A look at Hitler
'
s office.
These are the teeth of George Washington.
A ginormous statue of Genghis Khan in Mongolia.
A comparison showing fat vs muscle.
This is the desk of Albert Einstein just a few hours after his death.
This is Daytona Beach in 1957.
Climbers going up Mount Everest in 2013.
Cancer cells under microscope.
Bagger 288, the largest land vehicle in the world.
A watch belonging to Akito Kawagoe which stopped at

8:15

, the exact time of the Hiroshima bombing in 1945.
A 360 rainbow, which was captured from an airplane.
A zoomed in view of the human tongue.
A huge dust storm just before it hit Australia in 2013.
A geyser just barely before it erupted.
A 27,000-year-old hand print discovered on the rocks of an Indonesian island.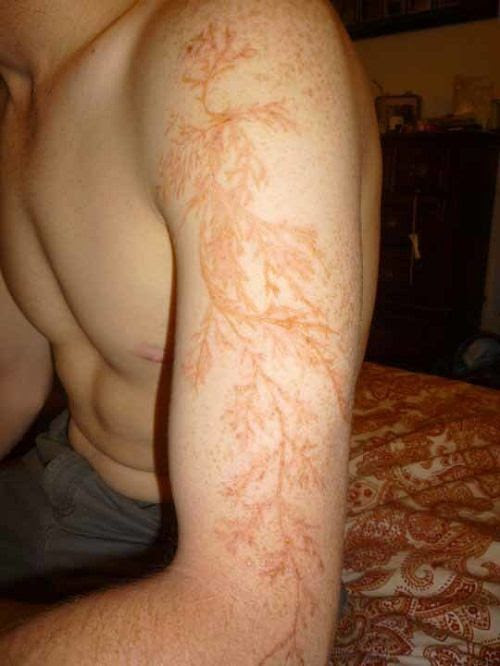 Looks like a tattoo?
They're scars left after being struck by lightning.
mountain animal from China that was recently spotted
State Park, Michigan.
A bird's-eye view of Dubai in the United Arab Emirates.
To get an idea of how large the comet 67P/Churyumov-Gerasimenko is, it has been rendered next to a city.
A cute one to close on.
To see some more of the weird things Mother Nature does, click here
& also

here.

I love the last one!!
Carole also sent me this amazing video.
On the

31st of July

, this time-lapse rise of the full blue moon was captured 2½ Miles away from Cape Byron Lighthouse on Belongil Beach, Byron Bay, New South Wales, Australia.
The lighthouse at Byron Bay is the most easterly point of the Australian mainland and therefore is the first place in Australia to watch the full moon rise. This Video is made up of 1038 frames and slowed down to as close to real time as possible. The photographer has been working on perfecting this type of time lapse for over a year now after seeing the work of his favorite photographer, Mark Gee. See this stunning moon-rise and appreciate just how beautiful God's work can be.
Click here.
For one last video from Carole, click here.
Do you say "cheese" when you pass a traffic camera?----fishducky